Fatigue/Low Energy Symptoms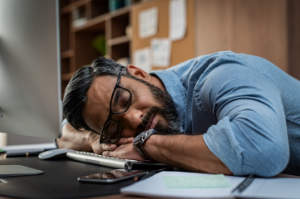 If the symptoms of fatigue/low energy are making it difficult to meet the demands of your everyday life, you are not alone. Many Americans live in a constant state of fatigue/low energy. However, the symptoms of fatigue/low energy can have a devastating effect on your overall health and therefore should not be ignored.
At Nova Clinic, we offer fatigue/low energy remedies that are safe, natural, non-toxic and proven effective. Our doctor, Dr. Shama Patel, is an accomplished Naturopathic Physicians with valuable experience in assessing fatigue disorders. Before recommending any wellness plan, Dr. Patel  will first perform a comprehensive review of your case to determine the underlying cause of your symptoms. This involves using cutting-edge laboratory testing to directly measure the levels of stress hormones in your body. She will then use this important information to recommend a customized plan that is based on your unique biochemistry.
Adressing Fatigue Symptoms
If you live in Alpharetta or the surrounding areas and are looking for relief from the symptoms of fatigue, Dr. Shama Patel at Nova Clinic can help. When it comes to fatigue/low energy, we believe that one-size-fits-all medicine is no longer acceptable, desirable or successful. Instead, we combine excellent patient care, innovative laboratory assessments and cutting-edge natural medicines to provide a unique treatment plan that is based on your body's unique biochemistry.
As part of a comprehensive wellness plan, Dr. Patel will use state-of-the-art laboratory testing to assess for vitamin/mineral deficiencies in your body that could be contributing to your symptoms of fatigue. She will also evaluate the role of the foods you eat, and test for gluten sensitivity. Lastly, she will motivate you to make positive adjustments to your lifestyle including incorporating exercise, sleep and stress management regimens into your daily life. The goal of this comprehensive plan is to relieve the symptoms of fatigue/low energy thereby improving your overall health and your quality of life.
Customized Fatigue Protocol
If you live in Cumming, GA and are seeking safe and effective support for fatigue, please contact our Alpharetta Fatigue/Low Energy Symptoms Experts today and schedule an appointment with Dr. Patel. We look forward to serving you and helping you to achieve and maintain a higher, more balanced state of health.