What You Will Experience
Interaction with HUMAN beings (not giant voicemail systems)
Little to NO waiting
Guidance, accountability, and support
A personalized PLAN focused on promoting WELLNESS, while also dealing with the ROOT CAUSES
More energy, better mood, increased focus, more restful sleep, and less aches/pains
The refreshing experience of having a doctor who cares and listens
Getting back to enjoying your life again, feeling well and confident about living a long life with a healthy body.
Because we serve a smaller group of patients, we have the luxury of time and energy (ie, less burnout). Because we have more time, energy and focus, we can serve you and your healthcare needs BETTER, and get you back to being your BEST self again.
As a practice member, you'll receive the best in personalized care, with a special emphasis on overall wellness and prevention to ensure you feel vibrant and stay your healthiest. You'll receive more quality time with our team, and a more humanistic aspect of care, from real people, without long wait times before or during your appointment.
Ask yourself this ONE question: Are you surviving each day? Or THRIVING each day?
We call many of our practice members the "walking wounded". These are the patients who may not have a diagnosable disease by conventional standards, but are nonetheless still struggling everyday with symptoms of fatigue, poor sleep, depression, digestive problems, or aches and pains. Their primary care doctors or specialists may have told them there's nothing wrong. Translation: you don't have a disease I can diagnose. You spend time, money, and hope trying to understand why you're feeling un-well, but are left fending for yourself.
There is a BETTER way. You've just found it.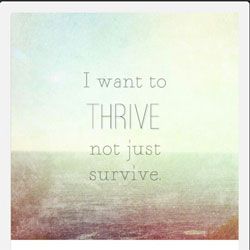 You can learn more about the specifics of our process here, but what we find practice members really want is to FEEL BETTER, with less medications and more understanding of what to eat, which vitamins to take, and other natural, safe strategies they can learn about to keep them well…and eventually THRIVING again.
The term "thrivers" refers to people who are transitioning out of a conventional medical model of care, based on defining health as an absence of disease or symptoms, into a long-term mode of WELLNESS – care plans that can challenge our status quo, yet are also life-altering. These people are striving to enter "thriver mode" – a place where they can not only be symptom-free, but flourish and actualize their full potential across those areas of their life that they choose.
Transitioning into thriver-mode is one of the most profound transformations a person will experience.
Are you ready to THRIVE?
Are you ready to regain your SPARK for life
Are you ready to get back to doing those things you enjoy and value?