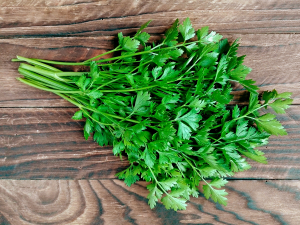 If you want to liven up your salads, get wild about winter greens! Here's a list of cold-weather hardy greens that are packed with nutrition, flavor, and color:
Belgian Endive. Add kick to your salad with chopped-up endive leaves. Skip the crackers for your hummus or cheese spread by using a sturdy endive leave, raw or baked. Endive provides potassium, fiber, and vitamins B, C and K, as well as calcium, magnesium, iron and folate.
Beet Greens. With a mild taste similar to kale, beet greens should not be tossed when you chop off the amethyst bulb at the end. The greens provide an abundance of nutrients including vitamins A and C. Look for firm, fresh greens still attached to the root. Beet greens can be enjoyed raw in a salad, sautéed, braised or steamed.
Kohlrabi. A cousin to broccoli, kohlrabi (aka The German Turnip) has purple, pale green, and white varieties. Slightly sweeter than broccoli, it's high in potassium, vitamin B6, manganese, and folate. Use shredded or chopped, add to soups and salads; eat raw or sautéed.
Parsley. Beyond garnish, it's a green worthy of being added to your salad blends. Use parsley in the final steps when preparing soups, sauces, salad dressing, rice or pasta. A cup of parsley provides iron, potassium, vitamins A, C, K and folate.
Radicchio. Abundant in vitamin K and potassium, radicchio is one of the prettiest winter veggies. It adds color and texture to salads and entrees. It's also a great green for digestive health. Don't confuse radicchio with red cabbage; radicchio is a member of the chicory family and has a distinctive, unique flavor that will bring your meals to life.
Watercress. A lovely addition to any salad, watercress is a great source of nutrition, containing fiber, antioxidants and minerals. It contains a high amount of Vitamins K, A and C. One of the more delicate winter greens, it makes for a lovely garnish to any dish.
These powerhouse veggies are loaded with antioxidants, which are associated with reduced risk for chronic disease. Check with your health practitioner for more healthy dietary advice during the winter months.
References
RECIPE
Vibrant Winter Greens with Walnuts, Dried Cranberry and Lemon Vinaigrette
A healthy start to dinner, this winter salad is robust in flavor, color, and nutrition. Cranberries add color and sweetness against the vibrant dark greens and purple radicchio. Walnuts and raw broccoli slaw bring on the crunch and provide nutrition for the mind. The entire salad is complemented by a lemon vinaigrette dressing. The result is super-delicious!
Ingredients for Vinaigrette
1/2 tsp finely grated lemon zest
2 tsp freshly squeezed lemon juice
1 tsp honey (optional)
1/2 tsp Dijon mustard
1/4 tsp fine sea salt, or to taste
3 – 4 Tbs extra-virgin olive oil
Freshly ground black pepper to taste
Preparation
In a small bowl, whisk together the lemon zest, lemon juice, honey, mustard, and fine sea salt, whisking until the salt is dissolved.
Add 3 tablespoons of the oil in a slow stream, whisking constantly until the dressing is well blended. Season with fine sea salt and freshly ground black pepper.
If desired, whisk in the remaining oil in a slow stream, whisking constantly. DO AHEAD: The vinaigrette can be prepared ahead and refrigerated in an airtight container up to 3 days.
Salad Ingredients
2 oz. chopped baby spinach leaves
2 oz. finely shredded radicchio
3 oz. chopped Belgian Endive
3 oz. chopped savoy cabbage
1/3 package of organic shredded broccoli slaw
1/2 cup walnuts halves and pieces (or your favorite nut)
2 oz dried, unsweetened cranberries (or currants, or diced apple pieces if you prefer)
Salad Preparation
In a salad bowl, gently mix greens, cranberries, add nuts with dressing. Divide among plates.
If using apple, dice and sprinkle over the top of each salad plate.
Drizzle dressing over salad plates.
Garnish with a sprig of parsley, if desired.
References
Vinaigrette Recipe Source: Epicurious: https://www.epicurious.com/recipes/food/views/simple-lemon-vinaigrette-51183020
Salad Preparation Source: Medicine Talk Staff